A REALLY SPECIAL DEAL FOR FOLKS IN THE "FAST LANE." Everything listed below for $60 total. That's all 27 titles including my 3 brand new releases and the SHIPPING IS FREE, and you get the autographed color photo of me from 2001 MANIACS. Otherwise, all the regular prices are listed below.
Okay, here's the JOHNNY LEGEND SUPER SALE OF THE CENTURY. All of the individual CATALOG TITLES are $3 each. Postage is $3 on any domestic order, regardless of the quantity (check with me on international orders). All titles are brand-new. Order 3 or more and you get a bonus 8x10 autographed color photo of me from 2001 MANIACS.

The TEENMANIA BOX SET is $6 (6 features on 3 discs).
The VAMPIRE CHRONICLES set is $6 for all four volumes.

My 3 BRAND NEW 2010 TITLES listed at the end are $5 EACH! The postage remains $3 on any order. To order, go to Paypal, my account is the same as my E-mail address: johnnylegendrocks@gmail.com
Just list the titles you are ordering and make sure to include your shipping address. Any questions, shoot me an E-mail: johnnylegendrocks@gmail.com

CATALOG TITLES (19 TITLES)
CATALOG TITLES:
Johnny Legend's Deadly Doubles Vol. 3: Prehistoric Women / Spies-A-Go-Go
Johnny Legend presents a brand new Double Bill of Mondo masterpieces. One extremely rare cult classic from the early 50s and one insane hodgepodge from the mid-60s. Both in brain-snapping color! In
Prehistoric Women
Tigri and her stone-age girl friends hate all men but realizing they are a
necessary evil capture some for potential husbands. Engor escapes and in his travels discovers fire. This comes in handy later after he has been recaptured by the women when he drives off a giant (who looks a lot like Johnny Legend!)
Spies A-Go-Go
filmed by Vilmos Zsigmond AND Laszlo Kovacs and dire
cted by James (THE SADIST) Landis AND featuring Richard JAWS Kiel is an insane musical spy spoof in a world of its own. A Russian spy bearing a rabbit with a vial of deadly bacteria arrives at a dude ranch with the intent of destroying America by releasing the rabbit on the continental divide. He must contend with a cadre of intercontinental counter-espionage agents and a rock-and-roll singer who is really a secret agent! Thirty years ahead of AUSTIN POWERS!


&n bsp;





Johnny Legend's Deadly Doubles, Vol. 4: Teenage Devil Dolls / Teenage Confidential Teenage Devil Dolls: Cassandra falls in with the wrong crowd in high school. She turns to a group of delinquent bikers to help her escape but before long she s doing drugs and failing her classes. She marries her clueless high school sweetheart Johnny but soon grows desperate for more drugs and falls into her old habits. Anti-drug pseudo-documentary made by UCLA students! Teenage Confidential: This incredible compilation of juvenile delinquency graffiti ranges from government scare films of the 1940s to classic highlights from teenage hits of the 50s and 60s. Trailers for Teenage Crime Wave Curfew Breakers Ed Wood s The Violent Years and others are shown along with rare educational/church films. In Satan Was A Teenager the parents blame themselves for teen trouble Tab Hunter does a mental illness spot and some of the best scenes are included from Rock Baby Rock It Carnival Rock High School Caesar and others. (Available separately or in Teenmania Box Set)




TEENMANIA / ROCK BABY ROCK IT
Available separately or on TEENMANIA BOX SET (SEE DESCRIPTION ON BOX SET)
Johnny Legend's Deadly Doubles, Vol. 6: Suburbia Confidential/Office Love-In
Suburbia Confidential
follows Dr. Legrand as he reviews the files of his patients - several suburban housewives who are shown having sex with salesmen bellboys and repairmen and includes scenes of bondage lesbianism and a transvestite based on director Stephen Apostolof's frequent collaborator Edward D. Wood Jr. Office Love-In features voluptuous blonde Marsha Jordan and brunette cult icon Kathy Williams among others in a series of vignettes surrounding sex in and with people in an office. Williams and Jordan have a lesbian encounter and a gay transvestite is talked into experimenting with a woman who deep throats bananas. Also watch for Colleen Murphy (the star of ALICE IN ACIDLAND) and Forman Shane who was in just about all of Apostolof's films. Filmed in lustrous black-and-white and gorgeous Astravision! Plus surprise shorts and extras!
Mania! Mania! Volume 1 - Commercial Mania / TV Mania DVD
For the first time on DVD, Johnny Legend presents classic double bills of his infamous "Mania" series. Volume one contains the critically acclaimed Commercial Mania, featuring the greatest, weirdest, and most mind-boggling TV ads of all time! Plus the delightfully absurd TV Mania, a compilation of old pilots and forgotten broadcasts including an all-kiddie western acted by children/dubbed by adults!; an episode of "Suicide Theatre" starring DeForest Kelley; fads that fizzled like the "Belly Bongo", and much more!




Mania! Mania! Volume 2 - Sex Mania / Dope Mania DVD The perils of sex and drugs are touted -- very emphatically -- in this trippy collection of newsreel footage, educational shorts and other assorted pop culture relics, all pieced together by cult impresario Johnny Legend. Don't miss the silent anti-marijuana Western The Weed of Death or the horrific cautionary tales designed to warn young servicemen of the dangers of venereal disease. Liven up the party with this kitschy treat.




TV Graffiti Five classic comedy shows from TV s golden age. BEULAH featuring Hattie McDaniel is so rare it never aired; DUFFY S TAVERN starring Allen Reed Jr. (the voice of Fred Flintstone!); THE STU ERWIN SHOW is the definitive bumbling-father sitcom; Jackie Gleason stars in LIFE OF RILEY just before stumbling into stardom in The Honeymooners ; and THE JACK BENNY SHOW an incredibly hilarious star-studded early episode. Extras: Five incredibly rare pioneering programs that created the world of TV comedy as we know it today. BEULAH, a groundbreaking black series short on stereotypes starring Oscar winner Hattie McDaniel. Rare 1950's interview with Oliver Hardy. Surprise shows and shorts!




Johnny Legend Live on the Sunset Strip On the 30th anniversary of the notorious '66 riots Legend House's own Johnny Legend makes a triumphant return to the world famous Sunset Strip for a mind-altering concert presented here for the first time. Songs include "The Naked Die Young" "Wild Wicked Wanda" "3-D Daddy" "Soakin' the Bone" "I Itch Like a Sonuvabitch" and many many more. Also includes the bonus feature Mondo Legend - an all new compilation of Johnny Legend's exploits over the past several decades. From home movies to horror movies from rock 'n' roll to the wrestling ring you'll travel cross-country and 'round-the-world on this breathtaking odyssey. Plus surprise shorts and extras!
| | |
| --- | --- |
| | |
BARN OF THE NAKED DEAD
Three showgirls on their way to Las Vegas have car trouble and are stuck all night out in the desert. The next morning cheerful Andre (Andrew Prine) offers them help in fixing their car. However, Andre is really a maniac with a lot of family problems; his mother ran out on him when he was a child so now he keeps kidnapped women chained up in his barn and trains them to perform circus tricks. Andre's father is still around of course, but because the old homestead is next to a nuclear test site he has been transformed into a raving homicidal mutant that Andre keeps locked up in a shed.
This low-budget exploitation flick was the second film from director Alan Rudolph (credited under the name Gerald Cormier), who would later go on to direct quirky critical favorites such as CHOOSE ME and TROUBLE IN MIND. While there is little evidence of his later work in this dark, perverse picture, it may satisfy those in a depraved frame of mind, though even they may be disappointed to learn that, despite the title, there is no nudity. Performances are generally good, however, particularly Prine's, and there's a nicely unnerving noise-rock score by Tommy Vig and even a theme song, "Evil Eyes," sung by Pamela Miller. Manuela Theiss, Sherry Alberoni, and Sheila Bromley play the three girls fighting to stay alive.
PLUS AN IN-DEPTH INTERVIEW by JOHNNY LEGEND with the film's star ANDREW PRINE!
PLUS Johnny Legend's original hour long videozine GOREBEAT: Johnny and his co-host JOHN LANDIS reminisce about the early 70's horror scene and how Landis met RICK BAKER and the making of SCHLOCK; FRED OLEN RAY discusses his music & wrestling careers and presents the new trailer for HOLLYWOOD CHAINSAW HOOKERS; BRIAN YUZNA reflects on BRIDE OF REANIMATOR (featuring Johnny), SOCIETY, and his recent international exploits; and finally RAY DENNIS STECKLER films Johnny's live concert for his INCREDIBLY STRANGE CREATURES sequel! )
TV NOIR: Interesting set of 1950s TV detective series episodes, many of which haven't been available in DVD format before.
"I'm the Law" featured tough guy George Raft as a two-fisted New York City police detective. The episode included in this set, `The Killer' can be found on other low-budget DVD sets.
"Hollywood Off Beat" aka "Steve Randall" was a short-lived Dumont series starring Melvyn Douglas as a disgraced attorney working as a private investigator while he attempting to be readmitted to the bar. The series only ran for aabout ten episodes and actually had a series finale that included a happy ending. The episode included in this set, the final show in the series, is `The Trial.'
"Police Station" was a 1959 syndicated series that ran for 39 episodes starring prolific character actor Baynes Barron as a police captain in charge of Precinct 11. I haven't been able to figure out the name of this episode; there was no splash panel at the beginning of the show and the DVD doesn't provide any information along those lines. Moreover, the guest stars aren't credited and although familiar faces, I can't remember any of their names.
"Treasury Men in Action" aka "Federal Men" - Charles Bronson stars as an undercover treasury man attempting to infiltrate a vicious gang of hoods in the episode, `The Case of the Deadly Dilemma.'
Although the DVD advertises four TV episodes, there's actually a fifth "bonus" episode from "Racket Squad" starring Reed Hadley with guest villain Douglas Dumbrille. The episode title isn't listed, but I believe it's `Sale Value' since it involves two con-men trying to fleece the owner of a small pottery factory.
In addition to the bonus episode, the distributor of the DVD provides a bit of history behind each of the TV series represented on the disk. Extras inclued a Revlon commercial featuring popular pitch-woman Julia Meade, another make-up commercial featuring Richard Carlson, plus a brief shipboard interview with Bela Lugosi.
contained.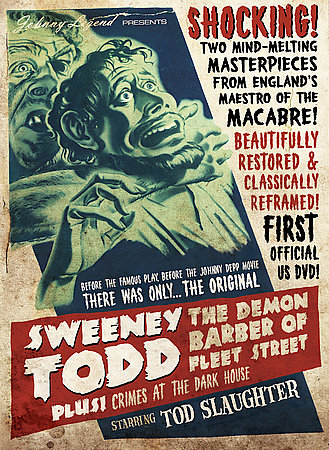 Sweeny Todd: The Demon Barber of Fleet Street / Crimes At Dark House Double Feature Before the famous play, Before the Johnny Depp movie, there was the original- Sweeney Todd: The Demon Barber of Fleet Street restored and correctly framed for the first time! Starring Britain's answer to Boris and Bela, The immortal Tod Slaughter! PLUS-The incredible Crimes at the Dark House! After 40 years of championing the great Mr. Slaughter, Johnny Legend was the one who originally presented the Demon Barber on Home Video way back in 1985. We are totally stoked to be be premiering these restored and re-framed features! For the first time you will be able to see the entire full frame as originally intended without the tops of the credits (and the top of Tod's head) cropped off! Until now, the only other versions of these classics have all come the same old scratchy 16mm TV prints. Our new release is virtually pristine! You get Tod's two greatest hits, Demon Barber and Crimes at the Dark House, plus an informal discussion on how Johnny Legend discovered Slaughter in the 60's courtesy of a forgotten old theater in downtown L.A. and latenight TV, plus some carefully selected trailers that Mr. Slaughter himself would surely approve of! AUDIO BONUS: A live broadcast recording of Mr. Slaughter performing "Demon Barber," and a mini-gallery of vintage Slaughter art.




JOHNNY LEGEND PRESENTS THE SADIST--New ANAMORPHIC 1.66:1 transfer of The Sadist plus Bonus Features: ARCH HALL JR. INTERVIEW by Ray Dennis Steckler with ORIGINAL THEATRICAL TRAILERS on The Sadist and more; The complete ARCH HALL JR. VIDEO SONGBOOK including every song Arch ever performed on screen; and reflections on the film by JOHNNY LEGEND. Critics ranging from LEONARD MALTIN "A taut little B-picture...Hall is distressingly believable as the psycho..." to TV GUIDE "Plenty of bloodshed and first-rate photography by Vilmos Zsigmond (Close Encounters)..." to SHOCK CINEMA "Arch shatters all previous conceptions as giggling thrill-killer Charley Tibbs...one of the nastiest nutcases in screen history!" have unanimously hailed this film as one of the great undiscovered cinematic gems of all time. There is also unanimous acclaim for this new audio-enhanced transfer as being by far the best version of The Sadist ever produced. With the renewed interest in Oscar-winning cinematographer Zsigmond and the fact that Arch Jr. is touring, recording and making personal appearances once again, it's high time for a fresh look at The Sadist!




House on Haunted Hill: 50th Anniversary Edition With the original House On Haunted Hill having been released on VHS and DVD for a total of umpteen million times in the past 20 years or so, the arrival of yet another DVD release may leave some of you banging your head up against the wall in frustration. Fear not, though; Johnny Legend has bypassed the whole greed angle that many get-rich-quick DVD distributors commonly rely upon and has produced this new 50th Anniversary Special Edition with an entirely different motive in mind — an actual love for the movie.
For those of you who, for some bizarre reason, have never seen or heard of House On Haunted Hill (and it would be pretty hard to have not heard of it considering it spawned a remake — which in turn spawned a sequel), allow me to elucidate. It's the epitome of late-'50s "fun" horror movies that parents and kiddies alike flocked to see. In it, an eccentric millionaire (the always hammy but never disappointing Vincent Price) and his bored wife (Carol Ohmart a few years away of reaching B horror queen status in Jack Hill's immortal Spider Baby) invites five people (Richard Long, Carolyn Craig, Alan Marshall, Elisha Cook, Jr., and Julie Mitchum) to spend the night in the titular mansion. Should they survive through the night, they will each earn $10,000. It sounds easy — but there's always more going on than meets the eye… especially when Vincent Price is hanging around.
Aside from being a hoot (both intentionally and unintentionally if you can believe it), House On Haunted Hill is also one of several films produced and directed by William Castle, a motion picture pioneer who was a true showman in every sense of the word. Castle was the type of feller who always had a clever way of luring audiences in to see his latest masterpieces: gimmicks. Take his epic 1958 classic Macabre for instance — your admission to the movie included a special insurance policy issued by Lloyd's of London should you die of fright during the movie. Another highlight in Castle's gimmick days was 1959's The Tingler — a process known as "Percepto" featured hidden speakers that would let out blood-curdling shrieks; rolling bean bags were employed to race down the theater floor; and, most notable of all, a few theater seats were rigged to vibrate when the action on screen was taking place. Plus 90 minutes of bonus material.




Johnny Legend Presents Biker Mania! "King of the Biker Flicks" Johnny Legend presents this compilation celebrating the freewheeling genre, paying tribute to classics such as "The Wild One" and "Born Losers," as well as cult faves including "Werewolves on Wheels" and "The Wild Ride," plus more hog-heavy fare starring Tyne Daly, Bruce Dern, Marianne Faithfull, Dennis Hopper, Russ Tamblyn, Billy Bob Thornton, and others. Also includes "Bikerbeat," a Legend-hosted videozine. Plus the original videozine BIKER BEAT featuring interviews with DAVIE ALLEN, JOHNNY LEGEND, the director and star of KILLER BIKER CHICKS, and original biker flick satires.




Biker Triple Mania! Bike enthusiasts will dig this nostalgic look back at hog-wild times that pairs Biker Babylon with a double feature of films starring a young Jack Nicholson. Biker Babylon (aka "It's A Revolution, Mother"), a staggering and controversial late-60's mondo-style "bike-u-mentary" makes it's official DVD debut -- you'll see bikers babbling, rumbling, doing drugs, clashing with hippies, duking it out with the pigs, and on and on. Priceless deadpan Dragnet-style narration throughout, plus vintage footage of teen riots on the Sunset Strip!
In Rebel Rousers (1970), one man makes a stand against a sadistic motorcycle gang when the community and even the police fail to help him. Paul Collier (Cameron Mitchell) is an architect who is planning to propose to his pregnant girlfriend Karen (Diane Ladd), but plans abruptly change when a simple trip to the beach becomes a menacing confrontation between Collier and a biker gang named the Rebels. It all begins when Paul runs into an old high school buddy, J.J. (Bruce Dern), who has unfortunately fallen in with the gang. When the rest of the bikers arrive, led by Bunny (Jack Nicholson), they take one look at Paul's girlfriend Karen and immediately claim her as their own. J.J. suggests they have drag races to determine who Karen will belong to, promising to let her go free if Paul wins. Desperate and outnumbered, Paul turns to the community and attempts to round up citizens to help him get Karen back, but he ultimately fails. Now Karen's fate lies in his hands alone, and if Paul hopes to get her back safe and unharmed, he must face the vicious Rebels alone. Featuring Harry Dean Stanton.
In The Wild Ride (1960), Jack Nicholson stars as a young rebel with a whole bunch of causes. Leather jackets, hot women, cool cars and crazy cats. After decades of wretched releases, this film has finally been beautifully restored from original elements.




Golden Age Ghost Tales B-movie maestro Johnny Legend brings you a compilation of old-school terror tales guaranteed to give you the shivers, taken from vintage broadcasts such as "Four Star Playhouse," "Lights Out," "The Veil," and other programs. John Newland gets a "Grey Reminder" (1951) of his departed wife in the mail; David Niven meets a "Man on a Train" (1953) who might be a ghost; Natalie Wood finds some creepy "Playmates" (1953) calling to her from the basement; lovers Ronald Reagan and Cloris Leachman are haunted by Civil War ghosts, in "Let It Rain" (1955); Boris Karloff warns a young man to avoid his daughter, in "Girl on the Road" (1959); "The Haunted Clown" (1960) chases Yvette Mimieux with more than juggling on his mind; and the Oscar-winning "An Occurrence at Owl Creek Bridge" (1962) was featured on "The Twilight Zone."
Beat Mania! For viewers who like their rebels brooding and their chicks defiant, Johnny Legend presents this jazz-filled, reefer-fueled tale of a talented kid who is right on track to set the radio waves ablaze with the far out sounds of rock and roll. In The Beatniks, Eddie Crane is about to become a musical superstar, but before that happens he'll have to jettison the same beatnik buddies who helped him make it to the top. When his friends botch a simple hold-up and a bartender winds up dead, it begins to appear as if Eddie's star will burn out before it ever had a chance to shine. Plus The Bloody Brood, a classic movie directed by Julian Roffman, and starring Jack Betts; Barbara Lord; Peter Falk. And Johnny's brand new beat-u-mentary Beat Mania featuring previews, hi-lites, Groucho, Lord Buckley, Gypsy Boots & Johnny's own on-screen poetry reading from the only beatnik-porn film ever made!




Johnny Legend Presents Groucho! James Dean! and Marilyn!
Gathered from the television archives of the 1950s, this program features a collection of early TV appearances by three of Hollywood's most iconic figures -- comic legend Groucho Marx, silver-screen idol James Dean and bombshell Marilyn Monroe. Complete programs include the dvd premiere of the complete one hour pilot for Marx's game show "
You Bet Your Life
," Groucho and Jack Benny deliver a satire on "You Bet Your Life," James Dean starring in an episode from the "
Campbell Showcase
" anthology series and Monroe making her premiere network appearance on the "
Jack Benny Program
." Plus major bonus sections on each super-star.
Johnny Legend's Teen Mania Box Set SUPER SALE PRICE SIX BUCKS!
SIX BIG HITS ON THREE DISCS!
DISC ONE: Rock Baby Rock It! (1957)
The ultimate rockabilly classic starring Johnny Carroll, Kaye Wheeler, with 17 hit songs!
Filmed on location in Memphis, TN
Plus Teen Mania (2009)
Johnny Legend's incredible new compilation capturing the entire history of rock 'n' roll, teen flix, deadly delinquents and more.
Everything from Bill Hailey and Little Richard to the TAMI and TNT shows and everything in between!
Plus bonus interviews with Rockin' Ronnie Weiser and more!
DISC TWO: Teenage Devil Dolls (1955)
An unbelievable down and dirty early '50s look at teens hooked on dope, big time!
Pert and pretty high school teen Cassandra Leigh opts for the easy life of a pot-smoking biker in order to avoid the demands of her neurotic career mom. When Cassandra's grades slip and her college plans fall by the wayside, she marries a love-smitten high school swain. When the devotion of her husband bores the young bride: she looks up her old thrill-seeking buddies and splits from home. It isn't long before she's peddling dope on the streets in order to finance her growing list of addictions. A young Mexican takes the wayward girl under his wing and makes her not only his partner-in-crime, but his woman. With the police on their heels, Cassandra and her lover are forced to ditch a stolen car in the desert and take refuge in a shallow cave. With the posse closing in, the Mexican abandons Cassandra and the deputies nab the semi-conscious heroine. .
Teenage Confidential (1986)
This incredible compilation of juvenile delinquency graffiti ranges from government scare films of the 1940s to classic highlights from teenage hits of the '50s and '60s. Trailers for Teenage Crime Wave, Curfew Breakers, Ed Wood's The Violent Years and others are shown along with rare educational/church films. In Satan Was A Teenager, the parents blame themselves for teen trouble. Tab Hunter does a mental illness spot and some of the best scenes are included from Rock Baby Rock It, Carnival Rock, High School Caesar and others.
DISC THREE: Naked Youth (1961)
Directed by John F. Schreyer. With Carol Ohmart, Robert Hutton, John Goddard. Three teenage criminals break out of juvenile prison and head south to Mexico.
Plus Johnny's career profile on Carol Ohmart!
High School Ceasar (1960)
Matt Stevens is the big man at high school. He sweats the students for protection money, acquires copies of tests for a fee, and has rigged the votes so he can beat Kelly in the election for student president. Aside from his anointed acolytes, Matt is almost universally despised. His parents are obscenely rich and spend their time traveling in Europe rather than giving him the parental guidance he needs. Things begin to get ugly when some of the teens resist his power and show Matt up at the drag race.
Plus Johnny's career profile on John Ashley.
THE VAMPIRE CHRONICLES VOL. 2, 3, 4 & 5. $6 FOR ALL FOUR VOLUMES (6 features and a ton of bonuses).
This is a series I put out for another company. I host each volume with a bevy of vampire chicks and the accordian-playing bloodsucker
Count Smokula. The features are all restored and there are bonuses galore. For additional info on each volume just ask me.
MY THREE BRAND NEW TITLES, REVIEWED BELOW: $5 EACH! Postage is still $3 on any order.
DENNIS HOPPER: THE EARLY WORKS TREK STARS GO WEST (2 disc set, 6 hours) BETTY WHITE IN BLACK AND WHITE
Just when you thought there couldn't be another angle to Baby Boomer nostalgia, not one but three new DVDs are here to tap that graying audience.
Under the banner "Johnny Legend Presents," they tackle such unlikely compatriots as Betty White, Dennis Hopper and the original cast of Star Trek in their salad days, a black and white blitz of Camelot-era pop culture, from a time before the term pop culture even existed.
Readers of this blog will no doubt reach for Dennis Hopper: The Early Works, which contains "his very first screen appearances and the movie that made him A LEGEND!" — their quote, italics, and caps. The movie in question, Curtis Harrington's Night Tide (1963), came out six years before Hopper's true calling card, Easy Rider, but it did offer him his first starring role. Playing a lonely sailor hooking up with a woman who — in varying shades of Cat People — may be a mermaid, it was marketed as a supernatural thriller but actually shares more with Harrington's early avant-garde work. It co-stars Luana Anders (later to skinny dip with Hopper, Sabrina Scharf and Peter Fonda in Easy Rider), the ethereal Linda Lawson, and the even etherealer Cameron. (Hardcore cinephiles should keep an eye peeled for brief glimpses of Bruno VeSota and Ben Roseman, veterans of the très strange Dementia [1955].) While it's always nice to see Night Tide, the version here, though letterboxed, is a substandard print that hasn't been digitally enhanced for widescreen TVs — which is baffling since all they sell nowadays are widescreen TVs. Don't fret: there's a vastly superior version of Night Tide available from Amazon.
As if to prove the term "classic television" an oxymoron, the rest of the set is filled with four samples of early work done for the tube. Broadcast in 1955, the "Boy in the Storm" episode of the Medic series has nineteen-year-old Dennis prophetically cast as an artistic teen given to crazy outbursts and drooling fits. A kindly doctor recognizes epilepsy, and, as Victor Young's wailing strings tug at the heart, everyone's poised to shed a tear over his graceful fortitude. The highpoint, while far from politically correct, is Dennis convulsing in a balls-to-the-walls epileptic fit. Othello it ain't.
"Mama's Boy" (1955) from Public Defender, stars Reed Hadley as the legal council out to prove Dennis acted in self defense in the murder of his pantywaist pal. From The Loretta Young Show, "Inga II" (1955) has him as a spoiled rich kid learning the ropes on a farm. While Loretta shamelessly revamps her Farmer's Daughter character from the 1947 film, complete with hair pretzel-braided into a pair of ungainly earmuffs, the rest of the cast is a who's who of second-tier character actors: Paul Brinegar (the idiot assistant in How to Make a Monster [1958]), post-Slip Mahoney Bowery Boy Stanley Clements, Donald (Frankenstein's Daughter) Murphy, and the ubiquitous Kathleen Freeman. In "Bobbie Jo and the Beatnik" (1964) from Petticoat Junction (missing its theme song due to copyright complications),
Hopper's an angry Greenwich Village poet inexplicably transplanted to Hooterville, wooing one of Uncle Joe's bimbo nieces. Even then, you could smell the madness in his wake.
The gulf separating Dennis Hopper from Betty White is as wide as the distance between Blue Velvet and The Sound of Music. I would have used a Betty White movie for that illustration, but, for the life of me, I can't think of one. Ms. White, who recently began moonlighting as a kitsch icon (notably as host of Saturday Night Live), is not generally regarded as an actress, comedian, singer or dancer. She is simply Betty White, an odd, untethered career unto itself. Upon glancing over the slipcase for Betty White in Black and White, I was taken by surprise. Everyone used to recognize her as a gameshow panelist, but I never knew Betty as a sitcom star in the 1950s. Morning and daytime television in my childhood was littered with reruns of nearly anything you could imagine, but Betty's Life With Elizabeth (1952-1955), A Date With the Angels (1957-1958) and The Betty White Show (two of them!: 1954 and 1958) were never shown in my neck of the woods.
The DVD anthology is three hours of such antediluvian Betty mania. The earlier Betty White Show was a daytime café klatch, the star occasionally appearing unscripted and working on an intimate level with the viewer — Mr. Rogers' Neighborhood for hausfraus. The one episode here finds her and bandleader Frank DeVol fêting a young girl on "Wish Day." Visibly uncomfortable and struggling to smile and not cry, the twelve-year-old has the unenviable task of presenting one of Winston Churchill's flunkies with a birthday present for the Prime Minister. (Apparently Winnie was too busy to drop by himself.) The later Betty White Show was a generic sitcom with Betty and Del Moore as a suburban couple prone to (surprise! surprise!) wacky misunderstandings. One of the two episodes in the collection features 50s scream queen Gloria Talbot (Daughter of Dr. Jekyll, The Cyclops, I Married a Monster from Outer Space — and the daughter in Douglas Sirk's All That Heaven Allows) as Moore's vavavoom-ish secretary. About the business papers she's got pressed against her hefty, missile-bra'd breasts, Moore says, "That's quite a stack!"
Betty's Life With Elizabeth, on the other hand, transcends camp, unwittingly mining its humor from the tense undercurrent running through a strained marriage. Each episode is broken down into three unrelated vignettes, introduced through the used-car-dealer smile of host Jack Narz. The couple (Betty and Moore) appear immune to the verbal slings and arrows they fire at one another, mostly on a claustrophobic living room set that could double as a jail cell. Yes, it's a comedy, but the repressed anger within Betty's Elizabeth, laughing to herself over private, unshared jokes, is evident in
enough barbed giggling, smirking and teasing to lay the groundwork for a freshman-year psychology thesis on rage and self-loathing.
The most outré of the three DVDs combines Star Trek with the wild west in the two-disc set, Trek Stars Go West. 1950s and 60s television was overrun with Cowboys & Indians, long before the term Native American was coined, when schoolbooks and common opinion never equated their wholesale slaughter with genocide. In keeping with the times, network programming favored simpleminded scenarios, mundane problems and easy solutions. Common plot elements running through the shows offered here, for example, have less to do with political or racial issues than with the workaday lives of white dudes, their honor amongst themselves, and the ceaseless trouble instigated — on the farm, on the ranch or in the saloon — by pesky womenfolk.
A braided Leonard Nimoy is onscreen only briefly as a conniving Comanche in an episode of Tate (1960). Written by Harry Julian Fink, the show is chockablock with the same brand of simmering stoicism he later brought to his Dirty Harry characters. After being a major nuisance to the locals, the future Mr. Spock is scalped (offscreen, 'natch) by a very young Robert Redford. We're then treated to Nimoy as a sourpuss saloon manager/pimp in "The Ape," a 1960 Bonanza (also missing its theme song) which attempts to, well, ape Steinbeck's Of Mice and Men as hulking Hoss (Dan Blocker) plays George to Cal Bolder's Lennie — dumb and dumber — six years before Bolder fell into the abyss of Jesse James Meets Frankenstein's Daughter. Again from 1960, Nimoy is a gun for hire in a town lorded over by a bullying land baron in "Shorty" from the forgotten Outlaws series. Sharply written by Daniel Mainwaring, it revisits the themes of power and intimidation prevalent in his screenplays for Out of the Past, The Big Steal, The Hitch-Hiker, The Phenix City Story, and Invasion of the Body Snatchers.
There's also a two-part Outlaws, "Starfall" (1960), a restrained William Shatner co-starring with Edgar Buchanan (Petticoat Junction's Uncle Joe), John (Attack of the Puppet People) Hoyt, Warners regular Barton MacLane, Jack Warden (!), Cloris Leachman (!!), and Victor (King Tut) Buono. They've disinterred a 1949 installment of The Lone Ranger with DeForest ('Bones') Kelley; and a 1957 broadcast of Hawkeye and the Last of the Mohicans with James ('Scotty') Doohan grossly overshadowed by Lon Chaney Jr. as Chingachgook. The pot of fool's gold at the end of this black and white rainbow, however, is the full color feature film White Comanche (1968). Shot on the cheap in Spain, it stars Shatner as twin half breed brothers. One's virtuous, the other a peyote-swilling renegade lording over a band of sycophants, or: Marlon Brando in One-Eyed Jacks versus Marlon Brando in Apocalypse Now, minus the talent (and budget). Joseph Cotton is there too, but by the time he wanders in, you may think you've lost your mind.
If you don't do PayPal, contact me and we'll work something out.